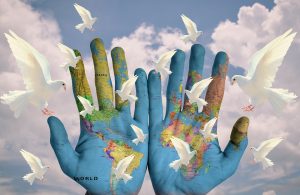 Wouldn't the world be a beautiful place if every single day, every single person, pledged to be good and to to do good — to be kind, loving and generous — to always lead from a place of love?
I do think a lot of people wake up each day with the intention of doing good. I believe most of us are decent people who do lead from a place of love, but our world can sometimes get the better of us and we allow it to take us away from our true intention. Its actually quite sad that our world really is spoiled by a few rotten apples.
Reading the Bible can be a daunting endeavor because so much of it is a mystery to us — throw in all the "preachy" types telling us what it means (usually incorrectly) and it can boggle the mind. But, we shouldn't let it, because the Bible is full of love, hope, kindness, generosity, fairness and miraculous inspiration. Take Galatians 6 for example. It came across my inbox recently and when I read it, the message became so clear to me. I learned from it and pray that I can keep its teachings in my heart so that I may be a better person.
Doing Good to All:  Galatians 6
Brothers and sisters, if someone is caught in a sin, you who live by the Spirit should restore that person gently. But watch yourselves, or you also may be tempted. Carry each other's burdens, and in this way you will fulfill the law of Christ. If anyone thinks they are something when they are not, they deceive themselves. Each one should test their own actions. Then they can take pride in themselves alone, without comparing themselves to someone else, for each one should carry their own load. Nevertheless, the one who receives instruction in the word should share all good things with their instructor.
Do not be deceived: God cannot be mocked. A man reaps what he sows. Whoever sows to please their flesh, from the flesh will reap destruction; whoever sows to please the Spirit, from the Spirit will reap eternal life. Let us not become weary in doing good, for at the proper time we will reap a harvest if we do not give up. Therefore, as we have opportunity, let us do good to all people, especially to those who belong to the family of believers.
This is a very powerful yet simple teaching: Do no harm, we reap what we sow and pursuing pleasures and reward of the flesh, will reap destruction. What does that mean? I believe it means that we are warned not to be arrogant, boastful, deceitful, malicious or selfish — we are being taught that doing good and being good, are paramount to our spiritual and physical well-being.
Carry each other's burdens
Another very important line in this passage is "Carry each other's burdens, and in this way you will fulfill the law of Christ."  The law of Christ — clearly, we are not just encouraged, but told that we must fulfill the law of Christ. Jesus is teaching us that we should not judge harshly ("restore that person gently") and we need to be vigilant not to be overly pious or proud when doing so and in essence, we need to love and support one another — none of us are without sin, so no one is in a position to arrogantly judge another for their sin, but rather, we need to uplift one another.

"Do not be deceived"
This part of the text is very important, because it says "God cannot be mocked." My understanding of this is that there are those who have elevated themselves to a status they are not deserving — those that preach, but not with good intentions; those that judge and condemn, when they themselves are more guilty of sin. Its telling us that God cannot be mocked and that He sees all, especially what is in our hearts.
Bible passages, particularly the teachings of Jesus Christ, are inspiring and they instill great peace within us.  My interpretation of Galatians 6 is that we are here to try our best, to be kind, generous, patient and loving.
What did Galatians 6 teach you? Are your interpretations differing from my own? I'll probably read it a few more times to make sure I'm understanding the passage and I think that's okay — it's like an epiphany each time we read Bible passages and that only helps to put the message deeper into our hearts.
"Be kind and merciful. Let no one ever come to you without coming away better and happier." – Mother Teresa