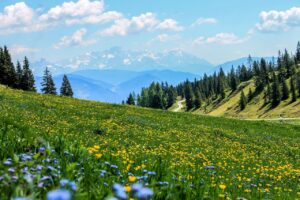 Joy. What precisely is it to be joyful — is it a feeling, or is it an emotion? Is joy a state of being that flows from a state of mind that is consistently happy? I sometimes feel that we've actually forgotten the true meaning of the word.
Let Us All Be Joyful
"We need to give each other the space to grow, to be ourselves, to exercise our diversity. We need to give each other space so that we may both give and receive such beautiful things as ideas, openness, dignity, joy, healing and inclusion." – Max de Preee
The dictionary defines joy as: a feeling of great pleasure and happiness. Some say joy is a feeling, while others say it's actually an emotion — personally, I think joy is both. And the truth be told, it doesn't really matter if its a feeling or an emotion, because joy is something that we all simply want and need. But, can we always be joyful? Probably not, since no one can feel joy or happiness all of the time. But you know when we should be joyful? When we celebrate our faith…for the very essence of Christianity, is joy. Another interesting fact that a lot of folks aren't aware of, is the word "gospel" actually means good news — so when Christians read the gospel or gather in worship, we are actually supposed to take joy in the good news that is in fact…the gospel.
The Christian faith is one of hope, compassion, peace, comfort, generosity and faith — and if Christians embrace these things, happiness and a sense of joy will live within us. There are so many Bible passages that give us the secret to living a good, happy life and yet so often, we ignore them. We've been told what to do, how to think and behave, yet for some reason, we ignore that wisdom and we go down our own path, only to find it took us way off course.
Joy and Inspiration
"Let the message of Christ dwell among you richly as you teach and admonish one another with all wisdom through psalms, hymns, and songs from the Spirit, singing to God with gratitude in your hearts." – Colossians 3:16
Love
"If anyone says, "I love God," and hates his brother, he is a liar; for he who does not love his brother whom he has seen cannot love God whom he has not seen." – 1 John 4:20
Compassion
"Be kind and compassionate to one another, forgiving each other, just as Christ God forgave you." – Ephesians 4:32
Hope
"May the God of hope fill you with all joy and peace in believing, so that by the power of the Holy Spirit you may abound in hope." –  Romans 15:13
Generosity
"This is how we know what love is: Jesus Christ laid down his life for us. And we ought to lay down our lives for our brothers and sisters. If anyone has material possessions and sees a brother or sister in need but has no pity on them, how can the love of God be in that person? Dear children, let us not love with words or speech but with actions and in truth." – 1 John 3:16-18
Faith
"But when you ask, you must believe and not doubt, because the one who doubts is like a wave of the sea, blown and tossed by the wind." – James 1:6
Peace
"Peace I leave with you. My peace I give to you. I do not give to you as the world gives. Don't let your heart be troubled or fearful." – John 14:27
Calm and Patient
"Know this, my beloved brothers: let every person be quick to hear, slow to speak, slow to anger; for the anger of man does not produce the righteousness of God." – James 1:19-20
"A worthless person, a wicked man, goes about with crooked speech, winks with his eyes, signals with his feet, points with his finger, with perverted heart devises evil, continually sowing discord; therefore calamity will come upon him suddenly; in a moment he will be broken beyond healing.
There are six things that the Lord hates, seven that are an abomination to him: haughty eyes, a lying tongue, and hands that shed innocent blood, a heart that devises wicked plans, feet that make haste to run to evil, a false witness who breathes out lies, and one who sows discord among brothers." – Proverbs 6:12-19
We have the guidance and we've even been given the answers. We've been blessed with the wisdom needed to be happy, to have hope, compassion, peace, comfort, generosity and faith — now it's up to us to live by that wisdom, so we should remember some important truths:

Love is the key. To be a kind, loving person is one of the best ways to have personal happiness.
Compassion is vital. We're not here to be cold, cruel or selfish, but rather, to be compassionate, generous and caring for all life.
We shouldn't judge and condemn others. People are miserable because they spend so much of their life harshly judging and condemning. Jesus was clear on this — we are not to judge and condemn others, because only he who is without sin has any business judging others. We are here to be tolerant and to love our neighbors as we love ourselves.
"Judge not, that you be not judged. For with the judgment you pronounce you will be judged, and with the measure you use it will be measured to you. Why do you see the speck that is in your brother's eye, but do not notice the log that is in your own eye? Or how can you say to your brother, 'Let me take the speck out of your eye,' when there is the log in your own eye? You hypocrite, first take the log out of your own eye, and then you will see clearly to take the speck out of your brother's eye." – Matthew 7:1-5
Don't stress or be anxious. Today, people are literally destroying their own personal happiness because of a dangerous obsession with politics. We have been blessed with the antidote: to trust in God and to put Him first. How are we putting Him first, if we spend the life He created arguing endlessly about politics? Do what we are taught and be calm, kind, loving, hopeful and faithful.
Christians need to stop placing all of their hopes in the hands of other men such as politicians, because they are leading us astray and that is putting us on the wrong path.  If we let ourselves be consumed by this world, we will lose sight of the life that truly matters…our eternal life. Christians should celebrate their faith and not mourn it, because to have true faith is to be calm, patient, understanding, compassionate, loving and…happy. If anyone tries to use "religion" as a weapon or a political tool for their own benefit, we know what we're meant to do — reject that deception and simply turn toward the truth. To have peace and joy in our hearts is not as difficult as we've been conditioned to believe, so today, lets all commit to living life to the fullest!

"I have told you these things, so that in me you may have peace. In this world you will have trouble. But take heart! I have overcome the world." – John 16:33