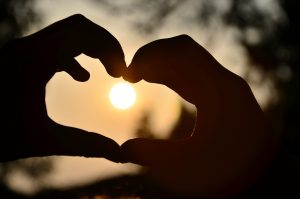 Love is truly miraculous and that is undeniable. If given and received more freely, love can indeed conquer all. With love not just in our hearts, but actually leading our heart, imagine the good we could do in this world? We're blessed that love is in abundance and now, we just need to share it outwards.
This collection of quotes about love is truly inspirational. Find the ones that speak loudest to you and then call upon those inspirational words to help you radiate love out to all the world. The more love we give out, the more we receive and this powerful recipe is exactly what the world needs right now.
"Once the realization is accepted that even between the closest human beings infinite distances continue, a wonderful living side by side can grow, if they succeed in loving the distance between them which makes it possible for each to see the other whole against the sky." — Rainer Maria Rilke
"The most important thing in life is to learn how to give out love, and to let it come in." — Morrie Schwartz
"Love in its essence is spiritual fire." — Seneca
"It takes courage to love, but pain through love is the purifying fire which those who love generously know. We all know people who are so much afraid of pain that they shut themselves up like clams in a shell and, giving out nothing, receive nothing and therefore shrink until life is a mere living death." — Eleanor Roosevelt
"Love recognizes no barriers. It jumps hurdles, leaps fences, penetrates walls to arrive at its destination full of hope." — Maya Angelou
"The only thing we never get enough of is love; and the only thing we never give enough of is love." — Henry Miller
"Your task is not to seek for love, but merely to seek and find all the barriers within yourself that you have built against it." — Rumi
"Love yourself first and everything else falls into line. You really have to love yourself to get anything done in this world." — Lucille Ball
"Keep love in your heart. A life without it is like a sunless garden when the flowers are dead." — Oscar Wilde
"The greatest healing therapy is friendship and love." — Hubert H. Humphrey
"Love many things, for therein lies the true strength, and whosoever loves much performs much, and can accomplish much, and what is done in love is done well." — Vincent Van Gogh
"When you arise in the morning, think of what a precious privilege it is to be alive — to breathe, to think, to enjoy, to love." — Marcus Aurelius
"Love is not only something you feel, it is something you do." — David Wilkerson
"I have decided to stick with love. Hate is too great a burden to bear." — Martin Luther King, Jr.
"One word frees us of all the weight and pain of life: That word is love." — Sophocles
"Loving people live in a loving world. Hostile people live in a hostile world. Same world." — Wayne Dyer
"If you aren't good at loving yourself, you will have a difficult time loving anyone, since you'll resent the time and energy you give another person that you aren't even giving to yourself." — Barbara De Angelis
"When you adopt the viewpoint that there is nothing that exists that is not part of you, that there is no one who exists who is not part of you, that any judgment you make is self-judgment, that any criticism you level is self-criticism, you will wisely extend to yourself an unconditional love that will be the light of the world." — Harry Palmer
"Darkness cannot drive out darkness: only light can do that. Hate cannot drive out hate: only love can do that." — Martin Luther King Jr.
"Being deeply loved by someone gives you strength, while loving someone deeply gives you courage." — Lao Tzu
"The way you get meaning into your life is to devote yourself to loving others, devote yourself to your community around you, and devote yourself to creating something that gives you purpose and meaning." — Mitch Albom
"What does love look like? It has the hands to help others. It has the feet to hasten to the poor and needy. It has eyes to see misery and want. It has the ears to hear the sighs and sorrows of men. That is what love looks like." — Saint Augustine
"Growth of the soul is our goal, and there are many ways to encourage that growth, such as through love, nature, healing our wounds, forgiveness, and service. The soul grows well when giving and receiving love. I nourish my soul daily by loving others and being vulnerable to their love. Love is, after all, a verb, an action word, not a noun." — Joan Z. Borysenko
"The most important requirement for our emotional health and happiness is Real Love. Real Love is caring about the happiness of another person without any thought for what we might get for ourselves." — Greg Baer
"Plant each hour a thought of love for those who have hurt you, destroy the idea that anyone can take away your happiness. Love begets love, so remember this law of sowing and reaping, for the more love you give, the more will be returned to you." — Albert E. Cliffe
And the most powerful quote "…Love your neighbor as yourself." — Jesus Christ
Imagine how wonderful this world would be if we truly did love our neighbors as we love ourselves! The marvelous thing about love is that even if you don't "like" someone, you can still love them!