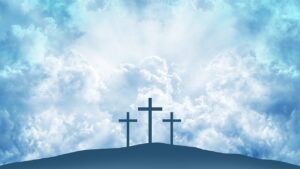 Easter is the most joyous day in the Christian faith. On this day of miracles, Jesus rose from the dead and in doing so, the entire world can have salvation. I wonder if we're guilty of sometimes forgetting what an incredible sacrifice Christ made for mankind?
A lot of Christians see Christmas as the happiest day in Christianity and on some levels, it obviously is. But Christmas is the day we celebrate the birth of Christ and while it truly is a blessed and joyous day, we ought not to forget about Good Friday and Easter Sunday. Good Friday is the most solemn day for Christians, because Jesus was physically abused in the most horrendous way before he died on the Cross. Easter Sunday is a day of joyful celebration — a day every single Christian should mark with prayer and thanks to our Heavenly Father and Jesus Christ. The joy of course, is because Jesus Christ rose from the dead to live and reign forever. And it's that fact that we must never let go of — Jesus is forever and there is no power in the entire universe greater than God's.
Jesus lived among us, so He knows what it is to be in physical form living on this earth. Christ walked among us, lived, worked and experienced all that mankind experiences every day. This fact is incredibly important, because it means that Jesus understands us and He knows the fear, anxiety and stress we experience on this earth. And, Jesus not only understands it, He tells us to never let it get us down. Jesus comforts us and He assures us that ultimately, we have nothing to fear and therefore, we should not be scared or anxious.
These Bible passages are a few of the many in which Jesus imparts His message for us and as always, they are centered on God's love for us, His children:
Matthew 6:25-27: "Therefore I tell you, do not be anxious about your life, what you will eat or what you will drink, nor about your body, what you will put on. Is not life more than food, and the body more than clothing?  Look at the birds of the air: they neither sow nor reap nor gather into barns, and yet your heavenly Father feeds them. Are you not of more value than they? And which of you by being anxious can add a single hour to his span of life?"
Matthew 6:34:  "Therefore do not be anxious about tomorrow, for tomorrow will be anxious for itself. Sufficient for the day is its own trouble."
Matthew 11:28-30: "Come to me, all who labor and are heavy laden, and I will give you rest. Take my yoke upon you, and learn from me, for I am gentle and lowly in heart, and you will find rest for your souls. For my yoke is easy, and my burden is light."
John 16:33: "I have said these things to you, that in me you may have peace. In the world you will have tribulation. But take heart; I have overcome the world."
Jesus who is kindness, love and light, is telling us not to fear or stress. He is assuring us that in Him, we have peace, but in the physical world, we will have tribulation. We are to take refuge in Christ — to put our faith and trust in Him and to let Him shield us from the horrors of this world. How incredibly wonderful is that?  Jesus, the Son of God, is coming right out and saying that we should be calm, happy and at ease. Will life on this earth be perfect? No. But ultimately, let nothing of this world make you scared, because if you believe in Christ and live by His teachings, what worry should we have? God is almighty in every way, so fear not, because He is in complete control.
Its easy to get scared and we all have feelings of stress, anger and worry. But the truth of the matter is, we must always remember what Jesus has told us and we should seek comfort in His words. Easter is a blessed day and while we enjoy Easter egg hunts, candy and images of furry Rabbits, the truth is, just as Christmas is about Jesus, so is Good Friday and Easter Sunday. Put Jesus at the center of your life and let faith guide you.