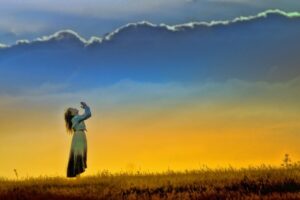 Anyone can be a positive thinker. There is no requirement to be of a certain religious faith and in fact, one can be a passionate positive thinker and not have any religious beliefs at all. But what about Christians?
Christians may be the one exception to this rule, but in a different sense. Some Christians are not positive thinkers…and yet, all Christians should be positive thinkers.
Faith and Positivity
Having faith is not always easy, but for Christians, if we have a true, passionate faith, or we strive to have faith (meaning we work at it), then in reality, we have every reason in the universe to be upbeat, happy and positive. So while yes, any person can be a positive thinker, Christians by nature should make being a positive person a top priority.
The Bible teaches us that God's children should be happy, confident and full of hope and joy. We are shown in countless Bible passages that if put our faith in Jesus Christ and God the Father, then we have nothing to fear and everything to gain:
"Speak to one another with psalms, hymns, and songs from the Spirit. Sing and make music from your heart to the Lord, always giving thanks to God the Father for everything, in the name of our Lord Jesus Christ." – Ephesians 5:19-20
Ephesians is telling us to be merry — to be kind and gentle with one another and to celebrate our faith, inspiring and uplifting each other. With happiness and a spirit of strength and hope, we should give joyful thanks to God through our Savior, Jesus Christ.
Think Positive
Christians are truly blessed and while everyone has a reason to be positive and hopeful, Christians know the truth, so we especially have all the reasons in the world to be positive and filled with hope. Christians know that God is all powerful and merciful and that we have nothing to fear — true belief and faith are extremely powerful, so we should live our life with gratitude, confidence, compassion, meaning, generosity and a happy heart.
"Don't let your hearts be troubled. Trust in God, and trust also in me. There is more than enough room in my Father's home. If this were not so, would I have told you that I am going to prepare a place for you? When everything is ready, I will come and get you, so that you will always be with me where I am.  And you know the way to where I am going."  – John 14:1-4