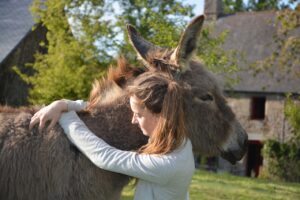 It's so heartwarming to brighten someone's day and give them a reason to smile. It's gratifying to know we've made someone feel better, even if only for a brief moment — its a powerful circle of positivity.
Most everyone is familiar with the saying "it's better to give than to receive" and what surprises many, is that this statement is backed up by reputable research. People who lead with kindness and compassion experience very real benefits to their own happiness and well-being and studies suggest that they have less stress and may actually live longer.
We talk about this a lot on Positivity Post, so it's no secret that we all have a great deal going on in our lives. Everyone has challenging stresses which pull us in different directions and that can make us put kindness on the back burner.
However, by always taking the time to be kind, we're actually helping ourselves and of course, we're making a positive and crucial impact on people who may be vulnerable or struggling.
This wonderful piece from Nikki Banas reminds us of just how important it is to always lead from a place of kindness and understanding:
"You never really know the true impact you have on those around you.
You never know how much someone needed that smile that you gave them.
You never know how much your kindness turned someone's entire life around.
You never know how much someone needed that long hug or deep talk.
So don't wait to be kind.
Don't wait for someone else to be kind first.
Don't wait for better circumstances or for someone to change.
Just be kind, because you never know how much someone needs it."
– Nikki Banas
No act of kindness, no matter how small it may seem, is wasted. A warm smile or a simple "hello" may not seem like much, but to someone who is in desperate need of warmth and kindness, they're invaluable. Its never too late to start and today is a perfect time to begin a routine of kindness — we should all commit to making kindness part of our every day lives!