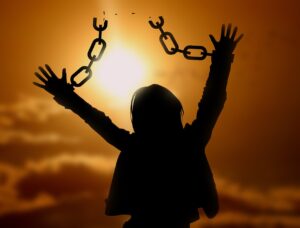 Toxic feelings like hatred, bitterness or anger are among the most deadly "substances" known to man. Anyone who has held onto these feelings, has most assuredly lived a sad and unhappy life. Luckily, we can break the chains of bitterness at any time.
Unleashing our inner light and positivity isn't always easy to do, but once realized, it opens up a whole new world of hope, brightness and happiness. As anyone who has strived to be a positive thinker will tell you, they learned early on that letting go of anger, jealousy, bitterness and hatred is absolutely essential — and, they'll also tell you that it is indeed a process.
Breaking the Chains of Bitterness
Bitterness sort of sums up the range of "hard feelings" in the sense that if one is angry, feels hatred or jealousy, they have a bitterness in their heart — they're feeling an uncomfortable bitterness. Once the bitterness, or, "hard feelings" get a foothold, they're insidious and begin to spread a darkness that is often hard to see…we may sense it, but often, it dulls our responses, so we don't act quickly enough to use our power of light to banish it away.  Part of being Christian is being a beacon of light, because we know that we have everything to be grateful for and happy about — celebrating our faith with joy, feeling good and hopeful and having compassion for others, are integral to being a Christian. In order for us to live the fulfilled life that God wants for us, we have to first let go of all the dark, toxic hard feelings that may creep in and that means, breaking the chains of bitterness.
"But if we walk in the light, as he is in the light, we have fellowship with one another, and the blood of Jesus his Son cleanses us from all sin."  – 1 John 1:7
"But you are a chosen race, a royal priesthood, a holy nation, a people for his own possession, that you may proclaim the excellencies of him who called you out of darkness into his marvelous light." – 1 Peter 2:9
"In the same way, let your light shine before others, so that they may see your good works and give glory to your Father who is in heaven."  – Matthew 5:16
How to Break the Chains
Use the light to break the chains of hard feelings. So we can free ourselves from the darkness, we first have to realize and accept that having feelings of excessive anger, hatred, jealousy, bigotry and revenge, are in fact, evil and thus, must be cast out by the light. Since the light is within us, that means seeking forgiveness and praying for the strength and will to unleash our positive Christian light to defeat the darkness.
There are of course many tips and techniques on how to be less angry or how to stop being jealous, but unless we make the heartfelt decision to change, those tips and suggestions won't work. I believe that we have to be ready to and willing to get rid of all the dark, negative and burdensome feelings and emotions that hold us back — we have to want happiness, peace, prosperity and harmony bad enough, in order to truly embrace and live in the light.
"For at one time you were darkness, but now you are light in the Lord. Walk as children of light."  – Ephesians 5:8
"For God, who said, "Let light shine out of darkness," has shone in our hearts to give the light of the knowledge of the glory of God in the face of Jesus Christ." – 2 Corinthians 4:6
"Then shall your light break forth like the dawn, and your healing shall spring up speedily; your righteousness shall go before you; the glory of the Lord shall be your rear guard."  – Isaiah 58:8
As Christians, asking God for His help in changing our ways and attitudes is always the right answer:
"You, Lord, are forgiving and good, abounding in love to all who call to you. Hear my prayer, Lord; listen to my cry for mercy. When I am in distress, I call to you, because you answer me." – Psalm 86:5–7
"Be kind to one another, tenderhearted, forgiving one another, as God in Christ forgave you." – Ephesians 4:32
"For if you forgive others their trespasses, your heavenly Father will also forgive you, but if you do not forgive others their trespasses, neither will your Father forgive your trespasses." – Matthew 6:14-15
"Judge not, and you will not be judged; condemn not, and you will not be condemned; forgive, and you will be forgiven…" – Luke 6:37
"Anger and bitterness are two noticeable signs of being focused on self and not trusting God's sovereignty in your life. When you believe that God causes all things to work together for good to those who belong to Him and love Him, you can respond to trials with joy instead of anger or bitterness."  – John Broger