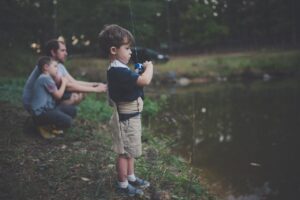 When we're children, we long to be adults and in an ironic twist, once we're adults…we yearn for the carefree and innocent days of our youth. Luckily, that's all pretty normal though and in truth, childhood innocence is a blessing.
Become Like Children
As adults, we're all burdened with major responsibilities like career and family and keeping both running smoothly is a real balancing act — throw in the stress of life in general, the news, world events, politics and its no wonder why as adults, we wish we were children again.
In Matthew 18:3, the Bible tells us:
And He said, "Truly I tell you, unless you change and become like little children, you will never enter the kingdom of Heaven."
This passage is so clear, but I think sometimes we don't always heed its core message: in prayer and in our relationship with God, we must let go of our worldly shackles and be like children — innocent, awe inspired, gentle, open and loving. It's also teaching us that man must be humble and accept that it is God's will and not our own that matters. It tells us that in truth, we cannot enter Heaven by our deeds alone or by vanquishing our enemies and because children are more open and tolerant, they have hearts filled with hope and love and.
Jesus is showing us that man cannot be boastful and arrogant and that we, just like trusting and hopeful children, need to be humble and recognize that God's will is supreme and that it is only through salvation through Jesus that we can enter Heaven.
Too many of us act boastful and arrogant, pompously judging and condemning others, acting supreme and important and then, praying to God as if He is there to do our bidding, when in truth, we are here to do His will.
Children are not perfect and neither are adults — we all sin and make mistakes. However, children are more humble than adults and it is this lesson we should learn. In life and in prayer, we should make a sincere effort to be kind, open, loving, obedient to God and in awe of His magnificence. I think life would be a lot happier and full of promise if we all tried to regain some of our childhood innocence and sense of wonderment, don't you?

And Jesus said "Come to me, all you who are weary and burdened, and I will give you rest." – Matthew 11:28

"May the God of hope fill you with all joy and peace in believing, so that by the power of the Holy Spirit you may abound in hope." – Romans 15:13